Perceptions of In-Service Teachers Regarding Technology Integrated English Language Teaching
Abstract Technology is changing paradigms in education rapidly and teachers are caught unguarded due to lack of professional training in this aspect. This study reflects the perceptions of nine ELT instructors with M.A TEFL degrees and with over six years of professional experience. Despite the lack of formal professional training as part of their pre-service teacher education, these instructors need to cope with the demands of this transition in daily implementation. Data were collected through semistructured interviews, open-ended questionnaires and field notes. An inductive analysis approach was used to analyze the data and emergent patterns of data were used to develop coding categories. Results indicated that respondents held positive views about the role of educational technology for enriching language instruction. However, they also acknowledged the challenges faced and emphasised the need for ICT training not only for teachers but also for students. It is concluded that participants make use of technology to teach academic and linguistic skills in an integrated skills approach, encourage students to construct knowledge, expose students to life-long learning skills and strategies, cater for different students who have different learning styles, find and create teaching materials, develop skills through exposure to existing on-line sources and create a motivating environment that is conducive for learning.
Keywords: Teacher perceptions; technology integrated teaching; ICT; ELT; EFL.
Full Article in Turkish Online Journal of Qualitative Inquiry, July 2012, 3(3)
Turkish EFL Students' Motivation for L2 Reading
ABSTRACT Although numerous studies have addressed the relationship between motivation and L1 reading behaviors, only a few studies have examined the question whether motivation can be a predictor of reading achievement in contexts which foreign language is learned. This study intended to investigate university students' reading motivation and its relations to their reading performance on institutional reading achievement test. Participants included 191 university EFL students who were enrolled in different instructional levels at the school of English language instruction of a private university in Istanbul, Turkey. Participants were classified into two categories; poor readers and good readers based on their reading scores on their reading achievement test scores. Participants responded to a Motivation for Reading Questionnaire (MRQ) after they had taken the mid-module level achievement test in reading and they were compared on their reading comprehension and on various reading motivation variables using factor analysis and multiple regression analysis in SPSS Version 13.0. Result provide evidence that the 5 most influential factors were students' intrinsic motivation in curiosity and extrinsic motivation in social dimensions, family involvement and compliance with respect to task and time requirements. Implications of these findings for implementing effective reading instruction in Turkish language teaching are discussed.
Key Words: motivation, reading, second language reading, motivational factors, intrinsic motivation, extrinsic motivation, proficiency. 
(Presented at 7th ELT RESEARCH CONFERENCE, Canakkale 18 Mart University, 27-28 April 2012)
Using students' evaluations to measure educational quality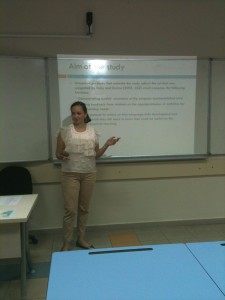 This research study examined university students' evaluation of teaching at an English preparatory school. Twelve students who participated in the study were chosen as a consequence of theoretical sampling because they repeated the intermediate level twice and were believed to give valuable information regarding the challenges encountered in the program. Aims of the study were to: (1) demonstrate quality  assurance at program implementation level, (2) get feedback from students on the appropriateness of activities for their learning needs, (3) get students to reflect on their language skills development and identify what they still need to learn that could be useful for the improvement of teaching, (4) raise awareness and persuade students to engage with the opportunities for learning beyond classroom and (5) negotiate emphases for the remainder of the program. Participants were asked to comment on and evaluate the educational quality, course objectives, performance of their instructor, their learning, achievement and progress, course materials, learning support they received, role of information and communication technology, and assessment procedures. Data was collected by Students' Evaluation of Educational Quality Instrument (SEEQ), focus group interviews and field notes. Findings revealed certain action points for the development of the English language teaching program.
Keywords:Student evalution; course evaluation; SEEQ; educational quality
Unveiling the Mystery: Investigating L2 Reading Motivation in an EFL Classroom
by Petek Sirin and Aslı Lidice Göktürk Saglam
Abstract Research in L2 reading motivation has gained impetus and provided many insights into understanding the components of motivation and factors that affect L2 learners in terms of reading motivation. Although many studies can be found on L1 reading motivation, studies on L2 reading motivation seem to be relatively meager. Since action research encompasses a sequence of events and an approach to problem solving, the present study addressed to examine whether; (1) this sample of Turkish University students differ in terms of their intrinsic motivation and extrinsic motivation and  (2) a change in methodology has an impact on the L2 reading motivation. Participants responded to a Motivation for Reading Questionnaire (MRQ) and took part in focus group interviews. Results revealed that L2 reading motivation was affected by extrinsic factors mostly and the changes in methodology and the instructional elements had a crucial effect on intrinsic and mostly extrinsic motivation, reading amount and performance. Results foreshadowed insightful methodological changes.
Key Words: motivation, L2 reading motivation, action research, reading strategies intervention
Full Article: (pages 8-22) http://www.dbe.metu.edu.tr/convention2012/Proceedings-of-the-11th-METU-International-ELT-Convention.pdf